Chapter 1: Green Chemistry / Introduction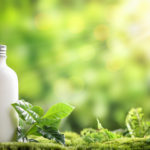 A sustainable lifestyle is vital if we want to hand over a better world to our children. More and more consumers, therefore, favor products which are made in a responsible way.
The cosmetic and beauty care industry is leading this trend: modern personal care formulations contain only sustainable, safe and skin-friendly ingredients. These ingredients should ideally be of natural origin.
Cosmetics and cosmetic ingredients manufacturers, therefore, share a common goal: finding cost-effective bio-based ingredients that work as well as their petrochemical-derived counterparts
Our mission at Minasolve is to assist our partners and customers in achieving their most ambitious goal: becoming independent from non-renewable raw materials. We concentrate all our efforts in being your key partner for "Green solutions".
Our first natural ingredient is the A-Leen 5 (formerly called Pentiol Green+™ ) (1,2-pentanediol, INCI name Pentylene Glycol), offered already since 2014. This nature-based care ingredient keeps the skin humid and makes it feel smooth. Furthermore, it keeps cosmetics from getting spoiled by microbes, and it can even be used as a solvent for extracting and stabilizing active ingredients. So, it's a true "multifunctional"! A-Leen 5 is made from sugar cane bagasse – an off-product from the food industry.
As part of the Minafin group, we benefit from more than 70 years of experience in green chemistry thanks to our sister company Pennakem utilizing the waste biomass from the sugar cane industries.
This gives us full traceability on the green origin of our raw materials which is the first of our 3 "Green Solving Attitude" pillars.
Our innovative mindset to develop new products and our constant focus in supporting our customers are the second and third commitments engraved in Minasolve's pillars.
Our intention is also to provide Natural Index increaser products as well as EU standard-compliant materials (REACh, COSMOS, NaTrue…). Latest success story: Minasolve Earns the USDA Certified Biobased Product Label for A-Leen 5 (Pentiol Green+).
Minasolve R&D Director Dr. Markus Nahrwold shares our values and vision in a webinar where you can understand the strength and benefits of using Minasolve products in your formulations to meet consumers expectations and to help you solve problems or challenges you could face.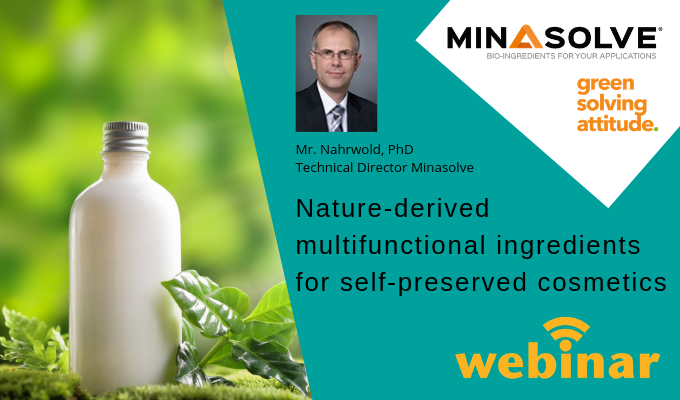 Minasolve…your reliable partner for Green Solutions!
Stay tuned for part 2 – coming soon
Author: Clémentine Calvet – Business Unit Manager | Minasolve