Pennakem has developed a proprietary green manufacturing process to manufacture odourless bio-based 1,2-pentanediol which is based on valorizing two natural waste materials sugar cane bagasse and corn cobs and using renewable chemistry to create a high quality cosmetic ingredient.
The growing interest of personal care formulators in using this ingredient is confirmed by the growth of new product launches during the past few years. According to Mintel, the number of new products containing pentylene glycol has grown from 1000 in 2010 to 1500-1600 in the last three years. Additionally, the number of new products claiming "no parabens' almost doubled from under 200 in 2010 to nearly 400 last year.
The anti-microbial activity profile of A-Leen® 5 (formerly called Pentiol Green +) has been demonstrated to be equivalent to its petrochemical-based analogues. The suitability of A-Leen® 5 as an anti-microbial protection agent for typical cosmetic products has been demonstrated in microbial challenge tests in accordance to ISO 11930 standards.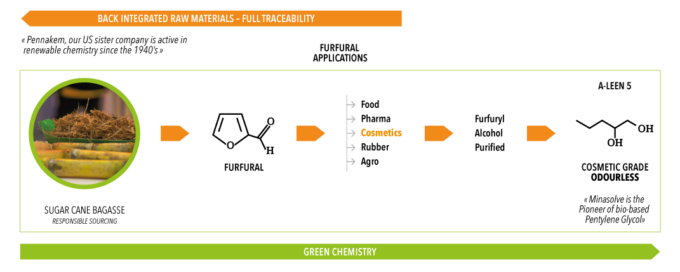 Conclusions
The development of an efficient, green, and cost effective process to produce large volumes of bio-based 1,2-pentanediol results from the trend towards sustainable growth in many different global markets. A key multifunctional ingredient for personal care and cosmetic products has been developed in the quest for safer preservation and sensory improvement systems and to support the growing market demand for natural ingredients. A-Leen® 5 answers customers' expectations for better environmental respect and social responsibility. It can easily be used to substitute petrochemical-based additives in current cosmetic products and consequently easily improves the natural index of the product. This innovative achievement won the silver Green Ingredients Award at In-Cosmetics 2014.