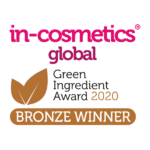 A-Leen® Aroma-3 is a nature-derived version of Phenylpropanol, a fragrance component naturally occurring in flowers and fruits – such as Hyacinths, Narcissus and ripe strawberries.
A-Leen® Aroma-3 is a mild perfuming agent. It brings a comfortable, balsamic and spicy oriental note to personal care products.
A-Leen® Aroma-3 also shows a broad spectrum anti-microbial activity that helps to protect all kinds of cosmetic products against microbial degradation. This activity is largely pH-independent.
A-Leen® Aroma-3 is produced starting from Cassia essential oil, which is traditionally obtained by steam distillation from the leaves and branches of the Chinese cinnamon tree Cinnamomum cassia. The full manufacturing process of A-Leen® Aroma-3 is in accordance with the principles of "green-chemistry" and complies with the standards COSMOS and Natrue.

A-Leen® Aroma-3 is free of listed preservatives.
INCI

Recommended use level

Form/Odour

pH

range

Formulation guidelines

Soluble in water up to 0.8%, miscible with alcohols and polar oils; should be added to emulsions at the post-emulsification stage for optimum anti-microbial efficacy.

Origin

Nature-derived
Natural Origin Index ISO 16128:1


Regulatory status (approved)

Globally approved; MSDS and RDS are available upon request

Applications

Body Care

Face Care

Hair Care

High pH Formulation

Make up

Natural

Perfumes

Skin Care Leave-on

Toiletries Rinse-off

N° CAS

Certificates

Related Downloads

Properties

Fragrance ; Masking agent ; Antimicrobial

Related Products