A-Leen® 5 (formerly called Pentiol Green +) is an easy to handle liquid. It can be added directly to the water phase, but can also be mixed with vegetal oils. For optimum efficacy of preservation, it should be added to emulsions at the post-emulsification stage.
A-Leen® 5 is an effective skin humectant with emollient properties, making it a versatile skin-conditioning agent in cosmetic products.
A-Leen® 5 can act as a solubilizer and as a solvent for extraction; it also helps to hydrate gelling agents such as Xanthan Gum.
A-Leen® 5 is the unique renewable alternative to the petro-sourced Pentylene Glycol, which is a very widely used moisturizing and skin-conditioning agent.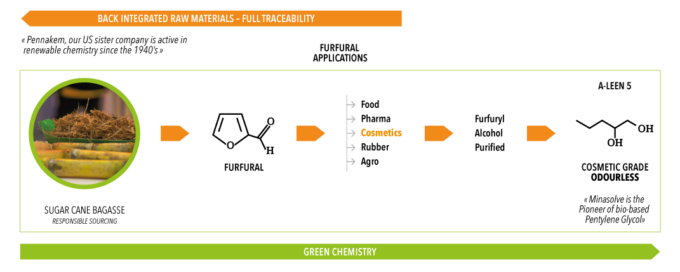 Additionally, the ingredient has proven its value against yeasts, molds and bacteria as an alternative to conventional preservatives for skin care, hair care, makeup and toiletries. It also serves as a booster for conventional or alternative preservatives. This ingredient was granted EcoCert and COSMOS certification in the EU.
INCI

Recommended use level

Form/Odour

Clear, colourless liquid Odourless

pH

range

Formulation guidelines

For optimum efficacy of preservation, it should be added to emulsions at the post-emulsification stage.

Origin

100% Derived-natural
Natural origin index: 1


Regulatory status (approved)

Europe, USA, Canada, Australia, China, Japan, Korea

Applications

Hair Care

High pH Formulation

Make up

Natural

Perfumes

Skin Care Leave-on

Toiletries Rinse-off

N° CAS

Certificates

Related Downloads

Properties

Emollient ; Skin humectant ; Solubilizer ; Antimicrobial

Related Products