World hand hygiene day – May 5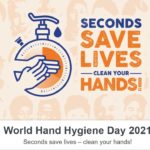 The SAVE LIVES: Clean Your Hands global campaign, launched in 2009 and celebrated annually on 5 May (World Hand Hygiene Day) aims to maintain global promotion, visibility and sustainability of hand hygiene in health care and to 'bring people together' in support of hand hygiene improvement around the world.
For World Hand Hygiene Day 2021, WHO calls on health care workers and facilities to achieve effective hand hygiene action at the point of care. The point of care refers to the place where three elements come together: the patient, the health care worker, and care or treatment involving contact with the patient or their surroundings. To be effective and prevent transmission of infectious microorganisms during health care delivery, hand hygiene should be performed when it is needed (at 5 specific moments) and in the most effective way (by using the right technique with readily available products) at the point of care. This can be achieved by using the WHO multimodal hand hygiene improvement strategy.
Minasolve contributes to the world hand hygiene day with this formulation guide. This objective is to provide innovative ideas using the most appropriate bio-sourced and mild ingredients that will guarantee clean, moisturized and soft hands. MINASOLVE's experts allocated additional resources to develop a whole new set of formulations. In the guide, you have the description of each product and the detailed instructions to reach top results for the best hand creams and softeners, especially while being repeatedly exposed to aggressive sanitizing lotions.
Download the guide now: MINASOLVE Hand hygiene and care formulation guide