Clever Combinations – Protecting pH-neutral Formulations the Natural Way
May 2021  –   Published in SOFW Journal 147 – 05/2021, www.sofw.com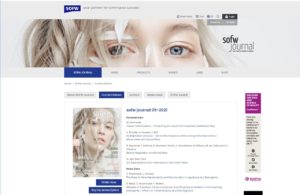 Abstract: B io-based 1,2-alkanediols are ideal ingredients for modern natural cosmetics: they are multifunctional, gentle to the skin and
environmentally friendly. Moreover, formulations containing 1,2-alkanediols are typically self-preserving, even at neutral pH.
Clever combinations of 1,2-alkanediols with other bio-based additives further increase the mildness of formulations and reduces their cost. In addition, liquid premixes of 1,2 alkanediols and suitable additives also simplify the application and increase
productivity. However, to achieve a successful outcome requires making the right choice between different 1,2-alkanediols and
different additives. This article shares guidance on the choices available to protect natural cosmetics safely and cost-effectively
and includes supportive evidence.
Author: Markus Nahrwhold – technical scientist, Minasolve
Access the full article online: here
Download the full article in ENGLISH here
Download the full article in GERMAN (DE): here