In-Cosmetics Global unveils the winners of this year's Innovation zone and green ingredients award. Minasolve is part of it.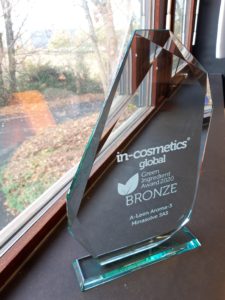 Louvain-la-Neuve, October 7, 2020  –
Minasolve
is extremely proud to win an award for its
A-Leen Aroma 3
product in the category "Green Ingredient Award".
A-Leen® Aroma-3 is a nature-derived version of Phenylpropanol, a fragrance component naturally occurring in flowers and fruits – such as Hyacinths, Narcissus and ripe strawberries. It is a mild perfuming agent. It brings a comfortable, balsamic, and spicy oriental note to personal care products.
It also shows a broad spectrum anti-microbial activity that helps to protect all kinds of cosmetic products against microbial degradation. This activity is largely pH-independent.
"This award is really proof that our efforts for a better and greener world are recognized. Minasolve wants to be a top of mind producer every time any cosmetic company tries to increase the naturality index of its final products. We are on track! says Emmanuel Peulens, Managing Director of Minasolve after receiving an #incosmetics Green Ingredient Award 2020″.
A-Leen® Aroma-3 is produced starting from Cassia essential oil, which is traditionally obtained by steam distillation from the leaves and branches of the Chinese cinnamon tree Cinnamomum cassia. The full manufacturing process of A-Leen® Aroma-3 is in accordance with the principles of "green-chemistry" and complies with the standards COSMOS and Natrue.
"We feel very honored by this award from recognized experts in the field of sustainability! It strengthens our determination to develop resource-efficient and socially responsible cosmetic ingredients add Markus Nahrwold, Minasolve Technical Manager. "We are well aware of our responsibility as an industrial company to take a leading role in building a sustainable global economy."
Request a sample: here
Press contact:
Sylvie Boone
Marketing – Communications Manager
sylvie.boone@minafin.com